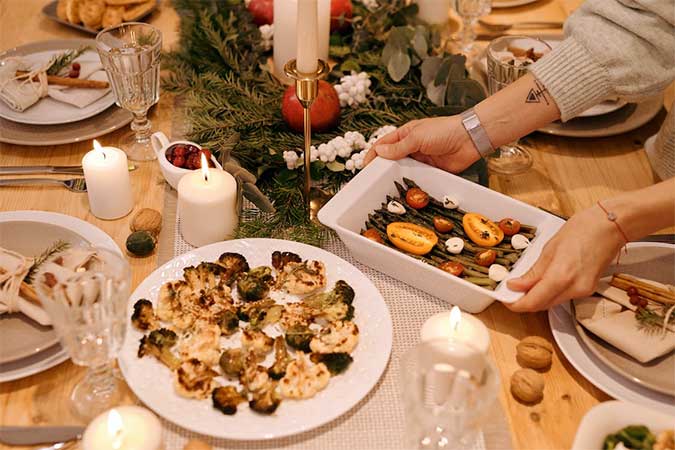 The sports nutritionist Dr Andrea Del Seppia takes appointments for visits at the Ravenna Medical Center GVM. He has great expertise with professional sportsmen. In this article, he'll explain to amateur sportsmen how to adjust their diet during the holidays.
During the holidays, in fact, it is very easy to indulge in lunches and dinners with friends and lose the hard-earned sporting results.
Food regimen and diets
"When we talk about food regimen and diets, each person is a case in itself – underlines Dr Andrea Del Seppia, nutritionist at the Ravenna Medical Center – since lifestyles and needs are different. The level of training, the type of work carried out, any pathologies, intolerances and food allergies … Finding a valid formula for everyone is impossible".
However, there are some guidelines to follow that can help "get rid of" the excess calories accumulated during the holidays.
Some caution
You don't get fat from Christmas to New Year's, but from New Year's to Christmas
The Christmas holiday season is beautiful because of conviviality.
Starting with the portions, it is possible to taste everything and not deny yourself anything, if you avoid filling your plate with too much.
"Be careful with the quantities – says Dr Del Seppia Andrea – if we taste a plate of cappelletti or tortellini we won't do anything wrong, but it is better to limit it to the meal linked to the party". It, therefore, means not overdoing it, trying to maintain a basic balanced diet and rather controlling yourself in the meals between one party and another.
"A useful trick is to always start the meal with a large portion of vegetables – advises Dr Andrea Del Seppia – just as it is useful to always try to have a low glycemic index breakfast and snacks. Another indication that is often underestimated, which in fact applies to all diets, is to break up the morning and afternoon with raw seasonal vegetables, thus making low-calorie snacks that help to give the feeling of satiety without weighing down and above all in order not to arrive at meals with an exaggerated and uncontrolled hunger that can lead us to the famous "binges".
A common mistake is to believe that, for example, Christmas lunch can be easily disposed of by fasting. "Nothing could be more false – specifies Dr Del Seppia Andrea – Skipping meals also causes the body to burn muscle mass, obtaining an effect that sportsmen certainly do not want. We don't even believe in detox diets, they don't exist. In fact, the body does not become intoxicated during the holidays, if anything, the introduction of excess calories is exaggerated by lingering on dishes and foods that are more complex to digest and richer, more seasoned and fatter, which leads to digestion under stress". Better then avoiding or reducing carbohydrates, for example, at the dinner following the abundant Christmas lunch or at lunch the next day, moving towards protein meals with a lower carbohydrate content.
Pay attention to the costs
A good control of what we will eat during the holidays starts from the time of shopping. "If you fill the fridge and sideboard with cured meats, panettone, sweet and alcoholic pandoro, falling into temptation is practically obvious". Let's begin to moderate ourselves as we fill the trolley: in addition to the well-known trick of never going shopping hungry, it is better to predict that in this period many friends and relatives will give away tastier and richer foods; better than to avoid buying in large quantities.
"The cheat is fine, but if we start having all the breakfasts and snacks with pandoro and sweets, we enter a vicious circle" confirms Dr Andrea Del Seppia, warning about the transformation of the "occasional whim into a constant, and there there is no training that holds".
Training during the holidays
"Here, the winning rule is common sense as well: if you miss a training session, nothing happens. Let's not improvise athletes just because we feel weighed down, rather, in particular for occasional sportsmen, it is advisable to prefer long walks at a brisk pace". The advice of Dr Andrea Del Seppia is to prefer cardiometabolic sessions rather than toning sessions, in order to burn those extra calories that are ingested. It is important to maintain constant and proportionate training, as has always been done outside the holiday season.
What about drinking?
"It's not the toast with a glass of sparkling wine or red wine that becomes problematic – reassures Dr Andrea Del Seppia – Common sense reigns supreme here too. As long as you stick to one to two glasses of wine a week there are no particular problems, the important thing is to maintain a low-calorie regime on the other days, compensating with cardiometabolic physical activity, preferably at high intensity".
On the other hand, it is essential to hydrate by drinking plenty of water, also to help the metabolism and promote diuresis. We don't just think about glasses of water though: "A good winter trick is to choose herbal teas and infusions. The hot drink, in fact, with the lowest temperatures can also entice those who usually find it hard to drink water. Furthermore, it also allows you to obtain other benefits – adds Dr Andrea Del Seppia – On the market, you can easily find calorie-free herbal teas and infusions with anti-inflammatory properties (for example those based on ginger and turmeric), some help to reduce abdominal swelling ( like those with fennel, anise or liquorice), but also remove that desire for sweets (choosing fruit-based ones)"